{"id":4658834833488,"title":"BUY 2 GET 1 FREE!-Water balloons","handle":"hot-sale-water-balloons","description":"\u003cp\u003e\u003cstrong\u003eNo matter what your age, you'll love being able to fill and tie 111 water balloons in less than 60 seconds with these self-tying water balloons! \u003c\/strong\u003e\u003c\/p\u003e\n\u003cp\u003e \u003c\/p\u003e\n\u003cul\u003e\n\u003cli\u003eWith innovative O-Ring technology and Rapid Fill capabilities, say goodbye to the stress and mess of filling individual water balloons and say hello to never ending splash out loud fun! \u003c\/li\u003e\n\u003c\/ul\u003e\n\u003cp\u003e\u003cstrong\u003e\u003cimg src=\"https:\/\/i5.walmartimages.ca\/images\/Enlarge\/518\/168\/6000201518168.jpg\" alt=\"zoomed image\"\u003e\u003c\/strong\u003e\u003c\/p\u003e\n\u003cp\u003e \u003c\/p\u003e\n\u003cul\u003e\n\u003cli\u003eSelf-sealing water balloons.Simply connect to your hose, fill and make hundreds of water balloons with no hand-tying. \u003c\/li\u003e\n\u003c\/ul\u003e\n\u003cp\u003e\u003cimg align=\"absmiddle\" src=\"https:\/\/img.alicdn.com\/imgextra\/i2\/26346638\/O1CN01M2Y4YC1yuFdgX3jyk_!!26346638.jpg\" max-width=\"789\"\u003e\u003c\/p\u003e\n\u003cp\u003e \u003c\/p\u003e\n\u003cul\u003e\n\u003cli\u003eThe summer season's too short – with Water Balloons you can unleash fun in no time!\u003c\/li\u003e\n\u003c\/ul\u003e\n\u003cp\u003e\u003cimg src=\"https:\/\/cdn.shopify.com\/s\/files\/1\/0222\/8833\/4928\/products\/O1CN01HzOCLf1yuFcoV8YcF__26346638_1400x.jpg?v=1592211232\"\u003e\u003c\/p\u003e\n\u003cp\u003e \u003c\/p\u003e\n\u003cul\u003e\n\u003cli\u003e3 Bunches includes 111 Balloons!\u003c\/li\u003e\n\u003c\/ul\u003e\n\u003cimg src=\"https:\/\/cdn.shopify.com\/s\/files\/1\/0222\/8833\/4928\/products\/072774b6b658b3603e1aa7198722775c_0f2fdee1-f1eb-4934-8bca-fdd8f4007f15_1400x.png?v=1592211637\"\u003e\u003cbr\u003e\u003cbr\u003e","published_at":"2020-06-15T16:24:24+08:00","created_at":"2020-06-15T16:46:03+08:00","vendor":"sharefanny","type":"Houseware\u0026Kitchen","tags":[],"price":1999,"price_min":1999,"price_max":3998,"available":true,"price_varies":true,"compare_at_price":3998,"compare_at_price_min":3998,"compare_at_price_max":5997,"compare_at_price_varies":true,"variants":[{"id":32547210887248,"title":"BUY 1 (111 Pcs Balloons)","option1":"BUY 1 (111 Pcs Balloons)","option2":null,"option3":null,"sku":"","requires_shipping":true,"taxable":false,"featured_image":null,"available":true,"name":"BUY 2 GET 1 FREE!-Water balloons - BUY 1 (111 Pcs Balloons)","public_title":"BUY 1 (111 Pcs Balloons)","options":["BUY 1 (111 Pcs Balloons)"],"price":1999,"weight":0,"compare_at_price":3998,"inventory_management":null,"barcode":""},{"id":32547255582800,"title":"BUY 2 GET 1 FREE (333 Pcs Balloons+FREE SHIPPING","option1":"BUY 2 GET 1 FREE (333 Pcs Balloons+FREE SHIPPING","option2":null,"option3":null,"sku":"","requires_shipping":true,"taxable":false,"featured_image":null,"available":true,"name":"BUY 2 GET 1 FREE!-Water balloons - BUY 2 GET 1 FREE (333 Pcs Balloons+FREE SHIPPING","public_title":"BUY 2 GET 1 FREE (333 Pcs Balloons+FREE SHIPPING","options":["BUY 2 GET 1 FREE (333 Pcs Balloons+FREE SHIPPING"],"price":3998,"weight":0,"compare_at_price":5997,"inventory_management":null,"barcode":""}],"images":["\/\/cdn.shopify.com\/s\/files\/1\/0222\/8833\/4928\/products\/O1CN01tEV7XO1yuFdbLpPND__26346638.jpg?v=1592211769","\/\/cdn.shopify.com\/s\/files\/1\/0222\/8833\/4928\/products\/6000201518169.jpg?v=1592211769","\/\/cdn.shopify.com\/s\/files\/1\/0222\/8833\/4928\/products\/6000201518170.jpg?v=1592211769"],"featured_image":"\/\/cdn.shopify.com\/s\/files\/1\/0222\/8833\/4928\/products\/O1CN01tEV7XO1yuFdbLpPND__26346638.jpg?v=1592211769","options":["QTY"],"media":[{"alt":null,"id":7694872150096,"position":1,"preview_image":{"aspect_ratio":1.0,"height":1500,"width":1500,"src":"https:\/\/cdn.shopify.com\/s\/files\/1\/0222\/8833\/4928\/products\/O1CN01tEV7XO1yuFdbLpPND__26346638.jpg?v=1592210934"},"aspect_ratio":1.0,"height":1500,"media_type":"image","src":"https:\/\/cdn.shopify.com\/s\/files\/1\/0222\/8833\/4928\/products\/O1CN01tEV7XO1yuFdbLpPND__26346638.jpg?v=1592210934","width":1500},{"alt":null,"id":7694932901968,"position":2,"preview_image":{"aspect_ratio":1.0,"height":1500,"width":1500,"src":"https:\/\/cdn.shopify.com\/s\/files\/1\/0222\/8833\/4928\/products\/6000201518169.jpg?v=1592211245"},"aspect_ratio":1.0,"height":1500,"media_type":"image","src":"https:\/\/cdn.shopify.com\/s\/files\/1\/0222\/8833\/4928\/products\/6000201518169.jpg?v=1592211245","width":1500},{"alt":null,"id":7695028846672,"position":3,"preview_image":{"aspect_ratio":1.0,"height":1500,"width":1500,"src":"https:\/\/cdn.shopify.com\/s\/files\/1\/0222\/8833\/4928\/products\/6000201518170.jpg?v=1592211753"},"aspect_ratio":1.0,"height":1500,"media_type":"image","src":"https:\/\/cdn.shopify.com\/s\/files\/1\/0222\/8833\/4928\/products\/6000201518170.jpg?v=1592211753","width":1500}],"content":"\u003cp\u003e\u003cstrong\u003eNo matter what your age, you'll love being able to fill and tie 111 water balloons in less than 60 seconds with these self-tying water balloons! \u003c\/strong\u003e\u003c\/p\u003e\n\u003cp\u003e \u003c\/p\u003e\n\u003cul\u003e\n\u003cli\u003eWith innovative O-Ring technology and Rapid Fill capabilities, say goodbye to the stress and mess of filling individual water balloons and say hello to never ending splash out loud fun! \u003c\/li\u003e\n\u003c\/ul\u003e\n\u003cp\u003e\u003cstrong\u003e\u003cimg src=\"https:\/\/i5.walmartimages.ca\/images\/Enlarge\/518\/168\/6000201518168.jpg\" alt=\"zoomed image\"\u003e\u003c\/strong\u003e\u003c\/p\u003e\n\u003cp\u003e \u003c\/p\u003e\n\u003cul\u003e\n\u003cli\u003eSelf-sealing water balloons.Simply connect to your hose, fill and make hundreds of water balloons with no hand-tying. \u003c\/li\u003e\n\u003c\/ul\u003e\n\u003cp\u003e\u003cimg align=\"absmiddle\" src=\"https:\/\/img.alicdn.com\/imgextra\/i2\/26346638\/O1CN01M2Y4YC1yuFdgX3jyk_!!26346638.jpg\" max-width=\"789\"\u003e\u003c\/p\u003e\n\u003cp\u003e \u003c\/p\u003e\n\u003cul\u003e\n\u003cli\u003eThe summer season's too short – with Water Balloons you can unleash fun in no time!\u003c\/li\u003e\n\u003c\/ul\u003e\n\u003cp\u003e\u003cimg src=\"https:\/\/cdn.shopify.com\/s\/files\/1\/0222\/8833\/4928\/products\/O1CN01HzOCLf1yuFcoV8YcF__26346638_1400x.jpg?v=1592211232\"\u003e\u003c\/p\u003e\n\u003cp\u003e \u003c\/p\u003e\n\u003cul\u003e\n\u003cli\u003e3 Bunches includes 111 Balloons!\u003c\/li\u003e\n\u003c\/ul\u003e\n\u003cimg src=\"https:\/\/cdn.shopify.com\/s\/files\/1\/0222\/8833\/4928\/products\/072774b6b658b3603e1aa7198722775c_0f2fdee1-f1eb-4934-8bca-fdd8f4007f15_1400x.png?v=1592211637\"\u003e\u003cbr\u003e\u003cbr\u003e"}
BUY 2 GET 1 FREE!-Water balloons
BUY 2 GET 1 FREE!-Water balloons
Product Description
No matter what your age, you'll love being able to fill and tie 111 water balloons in less than 60 seconds with these self-tying water balloons! 
With innovative O-Ring technology and Rapid Fill capabilities, say goodbye to the stress and mess of filling individual water balloons and say hello to never ending splash out loud fun!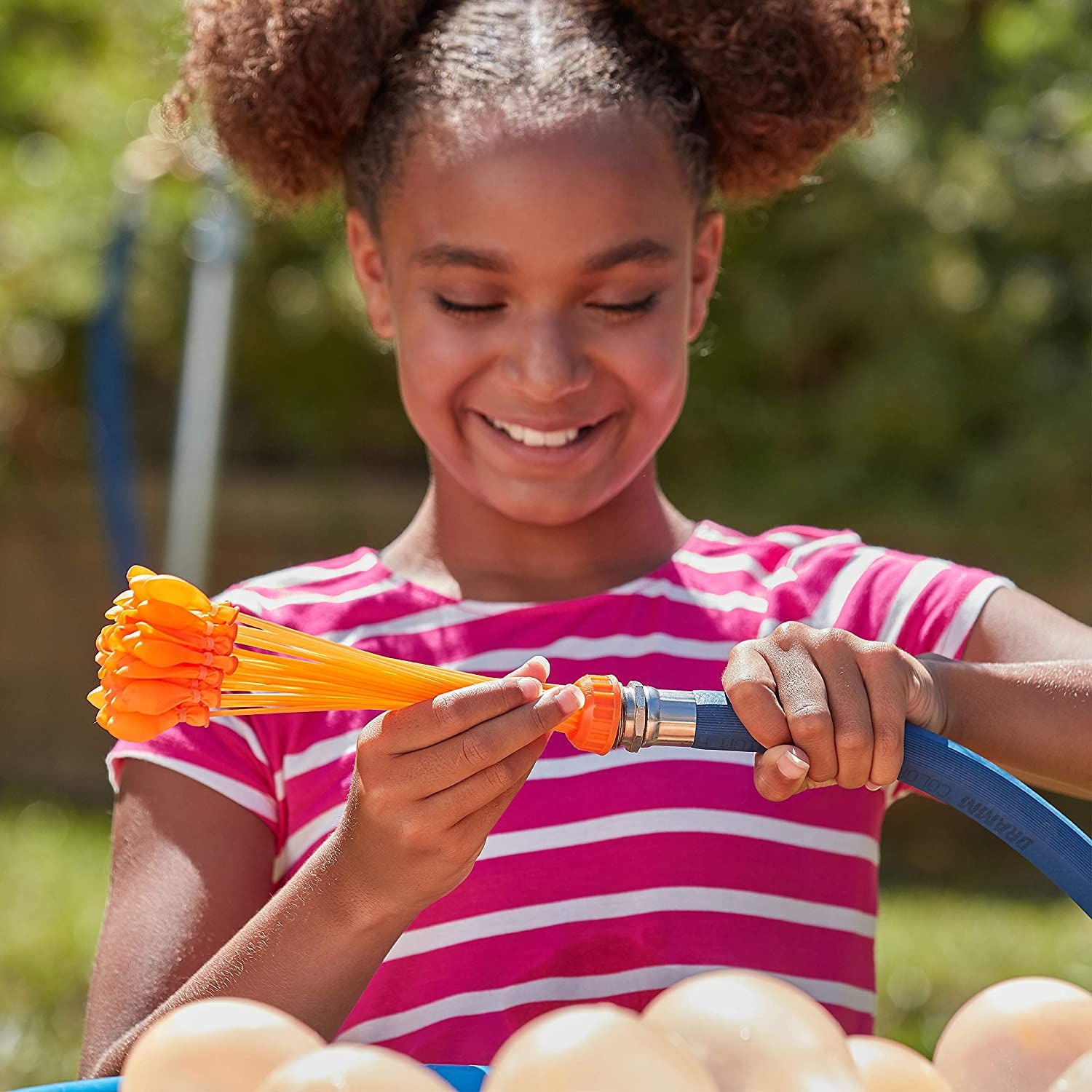 Self-sealing water balloons.Simply connect to your hose, fill and make hundreds of water balloons with no hand-tying. 
The summer season's too short – with Water Balloons you can unleash fun in no time!
3 Bunches includes 111 Balloons!