{"id":4433727324240,"title":"MoskiPatch - Natural Mosquito Repellent","handle":"moskipatch-natural-mosquito-repellent","description":"\u003cp\u003e\u003cimg src=\"https:\/\/cdn.shopify.com\/s\/files\/1\/0023\/5189\/0541\/files\/Banner_8639c357-46a2-4ce0-af33-d52de809fe95_large.png?v=1555915572\" alt=\"\"\u003e\u003cspan\u003e\u003c\/span\u003e\u003c\/p\u003e\n\u003cp\u003e\u003cstrong\u003e\u003cspan\u003e\u003cimg src=\"https:\/\/cdn.shopify.com\/s\/files\/1\/0101\/1105\/7978\/files\/planeta-imagen-animada-0010_large_37ebd3cb-4a0e-4452-864b-4e104e821ccd_pico.gif?v=1528877547\" alt=\"\"\u003e  \u003c\/span\u003e\u003cspan\u003eSHIPPING WORLDWIDE\u003c\/span\u003e  \u003cimg src=\"https:\/\/cdn.shopify.com\/s\/files\/1\/0101\/1105\/7978\/files\/planeta-imagen-animada-0010_large_37ebd3cb-4a0e-4452-864b-4e104e821ccd_pico.gif?v=1528877547\" alt=\"\"\u003e\u003c\/strong\u003e\u003c\/p\u003e\n\u003cul\u003e\n\u003cli\u003e\n\u003cstrong\u003eDelivery time\u003c\/strong\u003e\u0026gt;\u0026gt; worldwide\u003cstrong\u003e 7-20\u003c\/strong\u003e days\u003c\/li\u003e\n\u003cli\u003e\n\u003cstrong\u003eReturns\u0026gt;\u0026gt; \u003c\/strong\u003eFast refund\u003cstrong\u003e,100% \u003c\/strong\u003eMoney Back Guarantee.\u003c\/li\u003e\n\u003cli\u003e\u003cspan\u003e😍\u003cstrong\u003e 99.4% Of Customers Buy 2 Or More. \u003c\/strong\u003e😍\u003c\/span\u003e\u003c\/li\u003e\n\u003cli\u003e\u003cspan\u003e\u003cstrong\u003eNotice:\u003c\/strong\u003e \u003cstrong\u003eIf you can't pay by Credit\/Debit Card, please pay with PayPal.\u003c\/strong\u003e\u003c\/span\u003e\u003c\/li\u003e\n\u003c\/ul\u003e\n\u003cp\u003e\u003cimg src=\"https:\/\/cdn.shopify.com\/s\/files\/1\/0015\/9681\/7472\/files\/ezgif.com-crop_2_large.gif?v=1560161508\" alt=\"\"\u003e\u003c\/p\u003e\n\u003cp\u003e\u003cspan\u003e\u003cstrong\u003eMosquitoes are one of the deadliest animals in the world\u003c\/strong\u003e\u003c\/span\u003e. They\u003cspan\u003e\u003cstrong\u003e cause millions of deaths around the world\u003c\/strong\u003e\u003c\/span\u003e\u003cspan\u003e \u003c\/span\u003eevery year because of their ability to carry and spread diseases to humans. From time to time some\u003cspan\u003e\u003cstrong\u003e kids could experience a large local reaction\u003c\/strong\u003e\u003c\/span\u003e\u003cspan\u003e \u003c\/span\u003ethat was derived from the mosquito saliva. Kids with this\u003cspan\u003e \u003c\/span\u003e\u003cspan\u003e\u003cstrong\u003eunwanted syndrome\u003c\/strong\u003e\u003c\/span\u003e\u003cspan\u003e \u003c\/span\u003ecould have VERY large swelling that could last 1~2 days. Do you think your kids are in the safe region from mosquitoes? In the worst case,\u003cspan\u003e \u003c\/span\u003e\u003cspan\u003e\u003cstrong\u003ekids with Skeeter Syndrome\u003c\/strong\u003e \u003c\/span\u003ecould have their entire arm\/leg swelling that\u003cspan\u003e\u003cstrong\u003e could bruise and even lead to the blistering\u003c\/strong\u003e\u003c\/span\u003e!\u003c\/p\u003e\n\u003cp\u003e\u003cimg src=\"https:\/\/cdn.shopify.com\/s\/files\/1\/0015\/9681\/7472\/files\/giphy_1_084a182f-0c00-4e16-9db9-52fc97ae7915_large.gif?v=1560162259\" alt=\"\"\u003e\u003c\/p\u003e\n\u003cp\u003eMoskiPatch™ - Natural Mosquito Repellent is an\u003cspan\u003e\u003cstrong\u003e inexpensive and easy solution\u003c\/strong\u003e\u003c\/span\u003ethat can\u003cspan\u003e \u003c\/span\u003e\u003cspan\u003e\u003cstrong\u003edecrease the rate of mosquito bites\u003c\/strong\u003e\u003c\/span\u003e. MoskiPatch™ is\u003cspan\u003e \u003c\/span\u003e\u003cspan\u003e\u003cstrong\u003econvenient and long-lasting\u003c\/strong\u003e\u003c\/span\u003e. It can be "patched" to your kids' clothes, strollers, hats, etc -\u003cspan\u003e \u003c\/span\u003e\u003cspan\u003e\u003cstrong\u003eit can be stuck to anything ANYWHERE at any time\u003c\/strong\u003e\u003c\/span\u003e!\u003cspan\u003e \u003c\/span\u003e\u003cspan\u003e\u003cstrong\u003eMade with natural herbs\u003c\/strong\u003e\u003c\/span\u003e\u003cspan\u003e \u003c\/span\u003ethat\u003cspan\u003e \u003c\/span\u003e\u003cspan\u003e\u003cstrong\u003eMOSQUITO HATES\u003c\/strong\u003e\u003c\/span\u003e, MoskiPatch™ is\u003cspan\u003e \u003c\/span\u003e\u003cspan\u003e\u003cstrong\u003e100% safe from chemical\u003c\/strong\u003e\u003c\/span\u003e! Simply\u003cspan\u003e \u003c\/span\u003e\u003cspan\u003e\u003cstrong\u003eattach to your kid's belongings\u003c\/strong\u003e\u003c\/span\u003e\u003cspan\u003e \u003c\/span\u003eand those\u003cspan\u003e\u003cstrong\u003e nasty mosquitoes will run away\u003c\/strong\u003e\u003c\/span\u003e!\u003c\/p\u003e\n\u003cp\u003e\u003cimg src=\"https:\/\/media.giphy.com\/media\/hr4G0jemaFszjmx6pd\/giphy.gif\" alt=\"\"\u003e\u003cstrong\u003e\u003c\/strong\u003e\u003c\/p\u003e\n\u003cp\u003e\u003cstrong\u003eFEATURES:\u003c\/strong\u003e\u003c\/p\u003e\n\u003cul\u003e\n\u003cli\u003e\n\u003cspan\u003e\u003cstrong\u003eULTIMATE PATCHES SET\u003c\/strong\u003e\u003c\/span\u003e\u003cspan\u003e \u003c\/span\u003e- The MoskiPatch™\u003cspan\u003e \u003c\/span\u003e\u003cspan\u003e\u003cstrong\u003enatural patches\u003c\/strong\u003e\u003c\/span\u003e\u003cspan\u003e \u003c\/span\u003ecome in a pack of 60. The\u003cspan\u003e\u003cstrong\u003e resealable pouch\u003c\/strong\u003e \u003c\/span\u003econtains 10 sheets, each with 6 patches.\u003c\/li\u003e\n\u003cli\u003e\n\u003cstrong\u003e\u003cspan\u003eUP TO 24 HOURS PROTECTION\u003c\/span\u003e\u003c\/strong\u003e\u003cspan\u003e \u003c\/span\u003e- will\u003cspan\u003e \u003c\/span\u003e\u003cspan\u003e\u003cstrong\u003ekeep the mosquito away\u003c\/strong\u003e\u003c\/span\u003e\u003cspan\u003e \u003c\/span\u003efrom you and your kids effectively.\u003c\/li\u003e\n\u003cli\u003e\n\u003cspan\u003e\u003cstrong\u003eECO-FRIENDLY\u003c\/strong\u003e\u003c\/span\u003e\u003cspan\u003e \u003c\/span\u003e- MoskiPatch™\u003cspan\u003e\u003cstrong\u003e did not use ANY chemical\u003c\/strong\u003e\u003c\/span\u003e. That means all parents should not worry about those nasty chemicals.\u003cspan\u003e \u003c\/span\u003e\u003cspan\u003e\u003cstrong\u003eSimply attach to clothing or their belongings\u003c\/strong\u003e \u003c\/span\u003eand\u003cspan\u003e \u003c\/span\u003e\u003cspan\u003e\u003cstrong\u003edo not worry about mosquito bites\u003c\/strong\u003e\u003c\/span\u003e!\u003c\/li\u003e\n\u003cli\u003e\n\u003cspan\u003e\u003cstrong\u003eCONVENIENT\u003c\/strong\u003e \u003c\/span\u003e- This mosquito patch can be\u003cspan\u003e \u003c\/span\u003e\u003cspan\u003e\u003cstrong\u003eplaced on clothing, chairs, strollers, tables, or bedsides\u003c\/strong\u003e\u003c\/span\u003e. These patches are\u003cspan\u003e \u003c\/span\u003e\u003cspan\u003e\u003cstrong\u003eperfect for traveling, gardening, BBQ, hiking, fishing, and other outdoor activities\u003c\/strong\u003e\u003c\/span\u003e.\u003c\/li\u003e\n\u003c\/ul\u003e\n\u003cp\u003e\u003cimg src=\"https:\/\/cdn.shopify.com\/s\/files\/1\/0015\/9681\/7472\/files\/img4_1024x1024_large_00a4771e-0719-4ea0-a80d-3b8abe9121e4_large.png?v=1560162228\" alt=\"\"\u003e\u003cstrong\u003e\u003c\/strong\u003e\u003c\/p\u003e\n\u003cp\u003e\u003cstrong\u003eSPECIFICATION:\u003c\/strong\u003e\u003c\/p\u003e\n\u003cul\u003e\n\u003cli\u003e\n\u003cstrong\u003eComposition:\u003c\/strong\u003e\u003cspan\u003e \u003c\/span\u003eNatural citronella essential oil + Non-woven Fabric\u003c\/li\u003e\n\u003cli\u003e\n\u003cstrong\u003ePack Size:\u003c\/strong\u003e\u003cspan\u003e \u003c\/span\u003e11.5cm * 8 cm\u003c\/li\u003e\n\u003cli\u003e\n\u003cstrong\u003ePatch Diameter:\u003c\/strong\u003e\u003cspan\u003e \u003c\/span\u003e2.5 cm\u003c\/li\u003e\n\u003cli\u003e\n\u003cstrong\u003ePackage Includes:\u003c\/strong\u003e\u003cspan\u003e \u003c\/span\u003e10 Packs (60 Pcs.) MoskiPatch™ - Natural Mosquito Repellent\u003c\/li\u003e\n\u003c\/ul\u003e\n\u003ch3\u003eNotes:\u003c\/h3\u003e\n\u003cul\u003e\n\u003cli\u003ePlease allow 1-3 cm measuring deviation due to manual measurement.\u003c\/li\u003e\n\u003cli\u003eDue to the different monitor and light effect, the actual color of the item might be slightly different from the color showed on the pictures.\u003c\/li\u003e\n\u003c\/ul\u003e\n\u003ch3\u003e\u003cstrong\u003eShipping:\u003c\/strong\u003e\u003c\/h3\u003e\n\u003cul\u003e\n\u003cli\u003eWe processes orders between Monday and Friday. Orders will be processed within 1-15 business days of ordering and shipped out the next day after the processing day. We don't ship on weekends.\u003c\/li\u003e\n\u003c\/ul\u003e\n\u003cul\u003e\u003c\/ul\u003e\n\u003ch3\u003e\u003cspan\u003ePAYMENT:\u003c\/span\u003e\u003c\/h3\u003e\n\u003cul\u003e\n\u003cli\u003ePayPal is welcomed here\u003c\/li\u003e\n\u003cli\u003eIf you don't have a PayPal account, we accept all credit cards: just select '\u003cspan\u003e\u003cstrong\u003ePayPal' and click the 'Pay with Debit or CreditCard\u003c\/strong\u003e\u003c\/span\u003e' button\u003c\/li\u003e\n\u003c\/ul\u003e","published_at":"2020-01-06T18:01:17+08:00","created_at":"2020-01-06T18:01:24+08:00","vendor":"KiKiGang","type":"Health and beauty","tags":["Health and beauty"],"price":999,"price_min":999,"price_max":999,"available":true,"price_varies":false,"compare_at_price":2999,"compare_at_price_min":2999,"compare_at_price_max":2999,"compare_at_price_varies":false,"variants":[{"id":31667396083792,"title":"Default Title","option1":"Default Title","option2":null,"option3":null,"sku":"","requires_shipping":true,"taxable":false,"featured_image":null,"available":true,"name":"MoskiPatch - Natural Mosquito Repellent","public_title":null,"options":["Default Title"],"price":999,"weight":0,"compare_at_price":2999,"inventory_management":null,"barcode":""}],"images":["\/\/cdn.shopify.com\/s\/files\/1\/0222\/8833\/4928\/products\/1_2_cf758e47-d579-4bcb-9883-75080a0d01bb.jpg?v=1578304884","\/\/cdn.shopify.com\/s\/files\/1\/0222\/8833\/4928\/products\/1_1_e39176f4-e1c3-41fb-b2cf-3e0fc0eab6ca.jpg?v=1578304884","\/\/cdn.shopify.com\/s\/files\/1\/0222\/8833\/4928\/products\/1_1_8aa4feb6-ee4b-4bc5-8758-20154c3e6bc8.png?v=1578304884","\/\/cdn.shopify.com\/s\/files\/1\/0222\/8833\/4928\/products\/1_3_3053446d-3bc6-4154-bd21-57453150b506.jpg?v=1578304884","\/\/cdn.shopify.com\/s\/files\/1\/0222\/8833\/4928\/products\/1_4_f13e92ce-af3a-4691-af93-502343015058.jpg?v=1578304884","\/\/cdn.shopify.com\/s\/files\/1\/0222\/8833\/4928\/products\/1_5_6817b4c6-fb0e-4c56-835d-c5e5fe08432b.jpg?v=1578304884"],"featured_image":"\/\/cdn.shopify.com\/s\/files\/1\/0222\/8833\/4928\/products\/1_2_cf758e47-d579-4bcb-9883-75080a0d01bb.jpg?v=1578304884","options":["Title"],"media":[{"alt":null,"id":6167092592720,"position":1,"preview_image":{"aspect_ratio":1.0,"height":300,"width":300,"src":"https:\/\/cdn.shopify.com\/s\/files\/1\/0222\/8833\/4928\/products\/1_2_cf758e47-d579-4bcb-9883-75080a0d01bb.jpg?v=1578304884"},"aspect_ratio":1.0,"height":300,"media_type":"image","src":"https:\/\/cdn.shopify.com\/s\/files\/1\/0222\/8833\/4928\/products\/1_2_cf758e47-d579-4bcb-9883-75080a0d01bb.jpg?v=1578304884","width":300},{"alt":null,"id":6167092625488,"position":2,"preview_image":{"aspect_ratio":1.0,"height":300,"width":300,"src":"https:\/\/cdn.shopify.com\/s\/files\/1\/0222\/8833\/4928\/products\/1_1_e39176f4-e1c3-41fb-b2cf-3e0fc0eab6ca.jpg?v=1578304884"},"aspect_ratio":1.0,"height":300,"media_type":"image","src":"https:\/\/cdn.shopify.com\/s\/files\/1\/0222\/8833\/4928\/products\/1_1_e39176f4-e1c3-41fb-b2cf-3e0fc0eab6ca.jpg?v=1578304884","width":300},{"alt":null,"id":6167092658256,"position":3,"preview_image":{"aspect_ratio":1.0,"height":300,"width":300,"src":"https:\/\/cdn.shopify.com\/s\/files\/1\/0222\/8833\/4928\/products\/1_1_8aa4feb6-ee4b-4bc5-8758-20154c3e6bc8.png?v=1578304884"},"aspect_ratio":1.0,"height":300,"media_type":"image","src":"https:\/\/cdn.shopify.com\/s\/files\/1\/0222\/8833\/4928\/products\/1_1_8aa4feb6-ee4b-4bc5-8758-20154c3e6bc8.png?v=1578304884","width":300},{"alt":null,"id":6167092691024,"position":4,"preview_image":{"aspect_ratio":1.0,"height":300,"width":300,"src":"https:\/\/cdn.shopify.com\/s\/files\/1\/0222\/8833\/4928\/products\/1_3_3053446d-3bc6-4154-bd21-57453150b506.jpg?v=1578304884"},"aspect_ratio":1.0,"height":300,"media_type":"image","src":"https:\/\/cdn.shopify.com\/s\/files\/1\/0222\/8833\/4928\/products\/1_3_3053446d-3bc6-4154-bd21-57453150b506.jpg?v=1578304884","width":300},{"alt":null,"id":6167092723792,"position":5,"preview_image":{"aspect_ratio":1.0,"height":300,"width":300,"src":"https:\/\/cdn.shopify.com\/s\/files\/1\/0222\/8833\/4928\/products\/1_4_f13e92ce-af3a-4691-af93-502343015058.jpg?v=1578304884"},"aspect_ratio":1.0,"height":300,"media_type":"image","src":"https:\/\/cdn.shopify.com\/s\/files\/1\/0222\/8833\/4928\/products\/1_4_f13e92ce-af3a-4691-af93-502343015058.jpg?v=1578304884","width":300},{"alt":null,"id":6167092756560,"position":6,"preview_image":{"aspect_ratio":1.0,"height":300,"width":300,"src":"https:\/\/cdn.shopify.com\/s\/files\/1\/0222\/8833\/4928\/products\/1_5_6817b4c6-fb0e-4c56-835d-c5e5fe08432b.jpg?v=1578304884"},"aspect_ratio":1.0,"height":300,"media_type":"image","src":"https:\/\/cdn.shopify.com\/s\/files\/1\/0222\/8833\/4928\/products\/1_5_6817b4c6-fb0e-4c56-835d-c5e5fe08432b.jpg?v=1578304884","width":300}],"content":"\u003cp\u003e\u003cimg src=\"https:\/\/cdn.shopify.com\/s\/files\/1\/0023\/5189\/0541\/files\/Banner_8639c357-46a2-4ce0-af33-d52de809fe95_large.png?v=1555915572\" alt=\"\"\u003e\u003cspan\u003e\u003c\/span\u003e\u003c\/p\u003e\n\u003cp\u003e\u003cstrong\u003e\u003cspan\u003e\u003cimg src=\"https:\/\/cdn.shopify.com\/s\/files\/1\/0101\/1105\/7978\/files\/planeta-imagen-animada-0010_large_37ebd3cb-4a0e-4452-864b-4e104e821ccd_pico.gif?v=1528877547\" alt=\"\"\u003e  \u003c\/span\u003e\u003cspan\u003eSHIPPING WORLDWIDE\u003c\/span\u003e  \u003cimg src=\"https:\/\/cdn.shopify.com\/s\/files\/1\/0101\/1105\/7978\/files\/planeta-imagen-animada-0010_large_37ebd3cb-4a0e-4452-864b-4e104e821ccd_pico.gif?v=1528877547\" alt=\"\"\u003e\u003c\/strong\u003e\u003c\/p\u003e\n\u003cul\u003e\n\u003cli\u003e\n\u003cstrong\u003eDelivery time\u003c\/strong\u003e\u0026gt;\u0026gt; worldwide\u003cstrong\u003e 7-20\u003c\/strong\u003e days\u003c\/li\u003e\n\u003cli\u003e\n\u003cstrong\u003eReturns\u0026gt;\u0026gt; \u003c\/strong\u003eFast refund\u003cstrong\u003e,100% \u003c\/strong\u003eMoney Back Guarantee.\u003c\/li\u003e\n\u003cli\u003e\u003cspan\u003e😍\u003cstrong\u003e 99.4% Of Customers Buy 2 Or More. \u003c\/strong\u003e😍\u003c\/span\u003e\u003c\/li\u003e\n\u003cli\u003e\u003cspan\u003e\u003cstrong\u003eNotice:\u003c\/strong\u003e \u003cstrong\u003eIf you can't pay by Credit\/Debit Card, please pay with PayPal.\u003c\/strong\u003e\u003c\/span\u003e\u003c\/li\u003e\n\u003c\/ul\u003e\n\u003cp\u003e\u003cimg src=\"https:\/\/cdn.shopify.com\/s\/files\/1\/0015\/9681\/7472\/files\/ezgif.com-crop_2_large.gif?v=1560161508\" alt=\"\"\u003e\u003c\/p\u003e\n\u003cp\u003e\u003cspan\u003e\u003cstrong\u003eMosquitoes are one of the deadliest animals in the world\u003c\/strong\u003e\u003c\/span\u003e. They\u003cspan\u003e\u003cstrong\u003e cause millions of deaths around the world\u003c\/strong\u003e\u003c\/span\u003e\u003cspan\u003e \u003c\/span\u003eevery year because of their ability to carry and spread diseases to humans. From time to time some\u003cspan\u003e\u003cstrong\u003e kids could experience a large local reaction\u003c\/strong\u003e\u003c\/span\u003e\u003cspan\u003e \u003c\/span\u003ethat was derived from the mosquito saliva. Kids with this\u003cspan\u003e \u003c\/span\u003e\u003cspan\u003e\u003cstrong\u003eunwanted syndrome\u003c\/strong\u003e\u003c\/span\u003e\u003cspan\u003e \u003c\/span\u003ecould have VERY large swelling that could last 1~2 days. Do you think your kids are in the safe region from mosquitoes? In the worst case,\u003cspan\u003e \u003c\/span\u003e\u003cspan\u003e\u003cstrong\u003ekids with Skeeter Syndrome\u003c\/strong\u003e \u003c\/span\u003ecould have their entire arm\/leg swelling that\u003cspan\u003e\u003cstrong\u003e could bruise and even lead to the blistering\u003c\/strong\u003e\u003c\/span\u003e!\u003c\/p\u003e\n\u003cp\u003e\u003cimg src=\"https:\/\/cdn.shopify.com\/s\/files\/1\/0015\/9681\/7472\/files\/giphy_1_084a182f-0c00-4e16-9db9-52fc97ae7915_large.gif?v=1560162259\" alt=\"\"\u003e\u003c\/p\u003e\n\u003cp\u003eMoskiPatch™ - Natural Mosquito Repellent is an\u003cspan\u003e\u003cstrong\u003e inexpensive and easy solution\u003c\/strong\u003e\u003c\/span\u003ethat can\u003cspan\u003e \u003c\/span\u003e\u003cspan\u003e\u003cstrong\u003edecrease the rate of mosquito bites\u003c\/strong\u003e\u003c\/span\u003e. MoskiPatch™ is\u003cspan\u003e \u003c\/span\u003e\u003cspan\u003e\u003cstrong\u003econvenient and long-lasting\u003c\/strong\u003e\u003c\/span\u003e. It can be "patched" to your kids' clothes, strollers, hats, etc -\u003cspan\u003e \u003c\/span\u003e\u003cspan\u003e\u003cstrong\u003eit can be stuck to anything ANYWHERE at any time\u003c\/strong\u003e\u003c\/span\u003e!\u003cspan\u003e \u003c\/span\u003e\u003cspan\u003e\u003cstrong\u003eMade with natural herbs\u003c\/strong\u003e\u003c\/span\u003e\u003cspan\u003e \u003c\/span\u003ethat\u003cspan\u003e \u003c\/span\u003e\u003cspan\u003e\u003cstrong\u003eMOSQUITO HATES\u003c\/strong\u003e\u003c\/span\u003e, MoskiPatch™ is\u003cspan\u003e \u003c\/span\u003e\u003cspan\u003e\u003cstrong\u003e100% safe from chemical\u003c\/strong\u003e\u003c\/span\u003e! Simply\u003cspan\u003e \u003c\/span\u003e\u003cspan\u003e\u003cstrong\u003eattach to your kid's belongings\u003c\/strong\u003e\u003c\/span\u003e\u003cspan\u003e \u003c\/span\u003eand those\u003cspan\u003e\u003cstrong\u003e nasty mosquitoes will run away\u003c\/strong\u003e\u003c\/span\u003e!\u003c\/p\u003e\n\u003cp\u003e\u003cimg src=\"https:\/\/media.giphy.com\/media\/hr4G0jemaFszjmx6pd\/giphy.gif\" alt=\"\"\u003e\u003cstrong\u003e\u003c\/strong\u003e\u003c\/p\u003e\n\u003cp\u003e\u003cstrong\u003eFEATURES:\u003c\/strong\u003e\u003c\/p\u003e\n\u003cul\u003e\n\u003cli\u003e\n\u003cspan\u003e\u003cstrong\u003eULTIMATE PATCHES SET\u003c\/strong\u003e\u003c\/span\u003e\u003cspan\u003e \u003c\/span\u003e- The MoskiPatch™\u003cspan\u003e \u003c\/span\u003e\u003cspan\u003e\u003cstrong\u003enatural patches\u003c\/strong\u003e\u003c\/span\u003e\u003cspan\u003e \u003c\/span\u003ecome in a pack of 60. The\u003cspan\u003e\u003cstrong\u003e resealable pouch\u003c\/strong\u003e \u003c\/span\u003econtains 10 sheets, each with 6 patches.\u003c\/li\u003e\n\u003cli\u003e\n\u003cstrong\u003e\u003cspan\u003eUP TO 24 HOURS PROTECTION\u003c\/span\u003e\u003c\/strong\u003e\u003cspan\u003e \u003c\/span\u003e- will\u003cspan\u003e \u003c\/span\u003e\u003cspan\u003e\u003cstrong\u003ekeep the mosquito away\u003c\/strong\u003e\u003c\/span\u003e\u003cspan\u003e \u003c\/span\u003efrom you and your kids effectively.\u003c\/li\u003e\n\u003cli\u003e\n\u003cspan\u003e\u003cstrong\u003eECO-FRIENDLY\u003c\/strong\u003e\u003c\/span\u003e\u003cspan\u003e \u003c\/span\u003e- MoskiPatch™\u003cspan\u003e\u003cstrong\u003e did not use ANY chemical\u003c\/strong\u003e\u003c\/span\u003e. That means all parents should not worry about those nasty chemicals.\u003cspan\u003e \u003c\/span\u003e\u003cspan\u003e\u003cstrong\u003eSimply attach to clothing or their belongings\u003c\/strong\u003e \u003c\/span\u003eand\u003cspan\u003e \u003c\/span\u003e\u003cspan\u003e\u003cstrong\u003edo not worry about mosquito bites\u003c\/strong\u003e\u003c\/span\u003e!\u003c\/li\u003e\n\u003cli\u003e\n\u003cspan\u003e\u003cstrong\u003eCONVENIENT\u003c\/strong\u003e \u003c\/span\u003e- This mosquito patch can be\u003cspan\u003e \u003c\/span\u003e\u003cspan\u003e\u003cstrong\u003eplaced on clothing, chairs, strollers, tables, or bedsides\u003c\/strong\u003e\u003c\/span\u003e. These patches are\u003cspan\u003e \u003c\/span\u003e\u003cspan\u003e\u003cstrong\u003eperfect for traveling, gardening, BBQ, hiking, fishing, and other outdoor activities\u003c\/strong\u003e\u003c\/span\u003e.\u003c\/li\u003e\n\u003c\/ul\u003e\n\u003cp\u003e\u003cimg src=\"https:\/\/cdn.shopify.com\/s\/files\/1\/0015\/9681\/7472\/files\/img4_1024x1024_large_00a4771e-0719-4ea0-a80d-3b8abe9121e4_large.png?v=1560162228\" alt=\"\"\u003e\u003cstrong\u003e\u003c\/strong\u003e\u003c\/p\u003e\n\u003cp\u003e\u003cstrong\u003eSPECIFICATION:\u003c\/strong\u003e\u003c\/p\u003e\n\u003cul\u003e\n\u003cli\u003e\n\u003cstrong\u003eComposition:\u003c\/strong\u003e\u003cspan\u003e \u003c\/span\u003eNatural citronella essential oil + Non-woven Fabric\u003c\/li\u003e\n\u003cli\u003e\n\u003cstrong\u003ePack Size:\u003c\/strong\u003e\u003cspan\u003e \u003c\/span\u003e11.5cm * 8 cm\u003c\/li\u003e\n\u003cli\u003e\n\u003cstrong\u003ePatch Diameter:\u003c\/strong\u003e\u003cspan\u003e \u003c\/span\u003e2.5 cm\u003c\/li\u003e\n\u003cli\u003e\n\u003cstrong\u003ePackage Includes:\u003c\/strong\u003e\u003cspan\u003e \u003c\/span\u003e10 Packs (60 Pcs.) MoskiPatch™ - Natural Mosquito Repellent\u003c\/li\u003e\n\u003c\/ul\u003e\n\u003ch3\u003eNotes:\u003c\/h3\u003e\n\u003cul\u003e\n\u003cli\u003ePlease allow 1-3 cm measuring deviation due to manual measurement.\u003c\/li\u003e\n\u003cli\u003eDue to the different monitor and light effect, the actual color of the item might be slightly different from the color showed on the pictures.\u003c\/li\u003e\n\u003c\/ul\u003e\n\u003ch3\u003e\u003cstrong\u003eShipping:\u003c\/strong\u003e\u003c\/h3\u003e\n\u003cul\u003e\n\u003cli\u003eWe processes orders between Monday and Friday. Orders will be processed within 1-15 business days of ordering and shipped out the next day after the processing day. We don't ship on weekends.\u003c\/li\u003e\n\u003c\/ul\u003e\n\u003cul\u003e\u003c\/ul\u003e\n\u003ch3\u003e\u003cspan\u003ePAYMENT:\u003c\/span\u003e\u003c\/h3\u003e\n\u003cul\u003e\n\u003cli\u003ePayPal is welcomed here\u003c\/li\u003e\n\u003cli\u003eIf you don't have a PayPal account, we accept all credit cards: just select '\u003cspan\u003e\u003cstrong\u003ePayPal' and click the 'Pay with Debit or CreditCard\u003c\/strong\u003e\u003c\/span\u003e' button\u003c\/li\u003e\n\u003c\/ul\u003e"}
MoskiPatch - Natural Mosquito Repellent
MoskiPatch - Natural Mosquito Repellent
Product Description
  SHIPPING WORLDWIDE  
Delivery time>> worldwide 7-20 days
Returns>> Fast refund,100% Money Back Guarantee.
😍 99.4% Of Customers Buy 2 Or More. 😍
Notice: If you can't pay by Credit/Debit Card, please pay with PayPal.
Mosquitoes are one of the deadliest animals in the world. They cause millions of deaths around the world every year because of their ability to carry and spread diseases to humans. From time to time some kids could experience a large local reaction that was derived from the mosquito saliva. Kids with this unwanted syndrome could have VERY large swelling that could last 1~2 days. Do you think your kids are in the safe region from mosquitoes? In the worst case, kids with Skeeter Syndrome could have their entire arm/leg swelling that could bruise and even lead to the blistering!
MoskiPatch™ - Natural Mosquito Repellent is an inexpensive and easy solutionthat can decrease the rate of mosquito bites. MoskiPatch™ is convenient and long-lasting. It can be "patched" to your kids' clothes, strollers, hats, etc - it can be stuck to anything ANYWHERE at any time! Made with natural herbs that MOSQUITO HATES, MoskiPatch™ is 100% safe from chemical! Simply attach to your kid's belongings and those nasty mosquitoes will run away!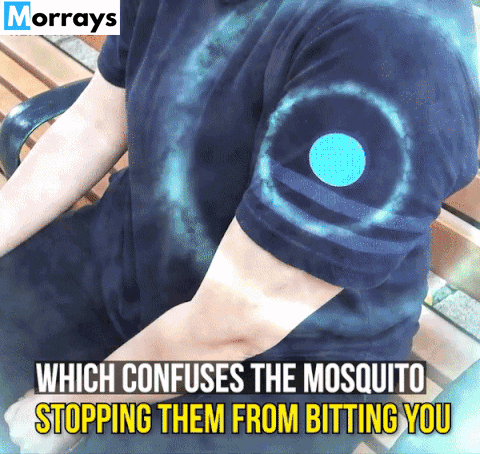 FEATURES:
ULTIMATE PATCHES SET

 

- The MoskiPatch™

 

natural patches

 

come in a pack of 60. The resealable pouch contains 10 sheets, each with 6 patches.

UP TO 24 HOURS PROTECTION

 

- will

 

keep the mosquito away

 

from you and your kids effectively.
ECO-FRIENDLY

 

- MoskiPatch™ did not use ANY chemical. That means all parents should not worry about those nasty chemicals.

 

Simply attach to clothing or their belongings and

 

do not worry about mosquito bites!
CONVENIENT - This mosquito patch can be

 

placed on clothing, chairs, strollers, tables, or bedsides. These patches are

 

perfect for traveling, gardening, BBQ, hiking, fishing, and other outdoor activities.
SPECIFICATION:
Composition:

 

Natural citronella essential oil + Non-woven Fabric
Pack Size:

 

11.5cm * 8 cm
Patch Diameter:

 

2.5 cm
Package Includes:

 

10 Packs (60 Pcs.) MoskiPatch™ - Natural Mosquito Repellent
Notes:
Please allow 1-3 cm measuring deviation due to manual measurement.
Due to the different monitor and light effect, the actual color of the item might be slightly different from the color showed on the pictures.
Shipping:
We processes orders between Monday and Friday. Orders will be processed within 1-15 business days of ordering and shipped out the next day after the processing day. We don't ship on weekends.
PAYMENT:
PayPal is welcomed here
If you don't have a PayPal account, we accept all credit cards: just select 'PayPal' and click the 'Pay with Debit or CreditCard' button